We moved to Santa Fe in May 2017 after coming here to vacation in the Summer – usually August – most of the previous 10 years before deciding to purchase our lot and home in August 2016. We didn't realize it at the time what with dealing with all the boxes spilling through the rooms and on the furniture but that same year (2017) Santa Fe won the "sense of place" award from the National Geographic.
As described by the National Geographic, this award is "is bestowed on an organization (The city of Santa Fe, in this case) that enhances cultural authenticity and supports historic monuments, vernacular architecture, indigenous heritage and artistic traditions."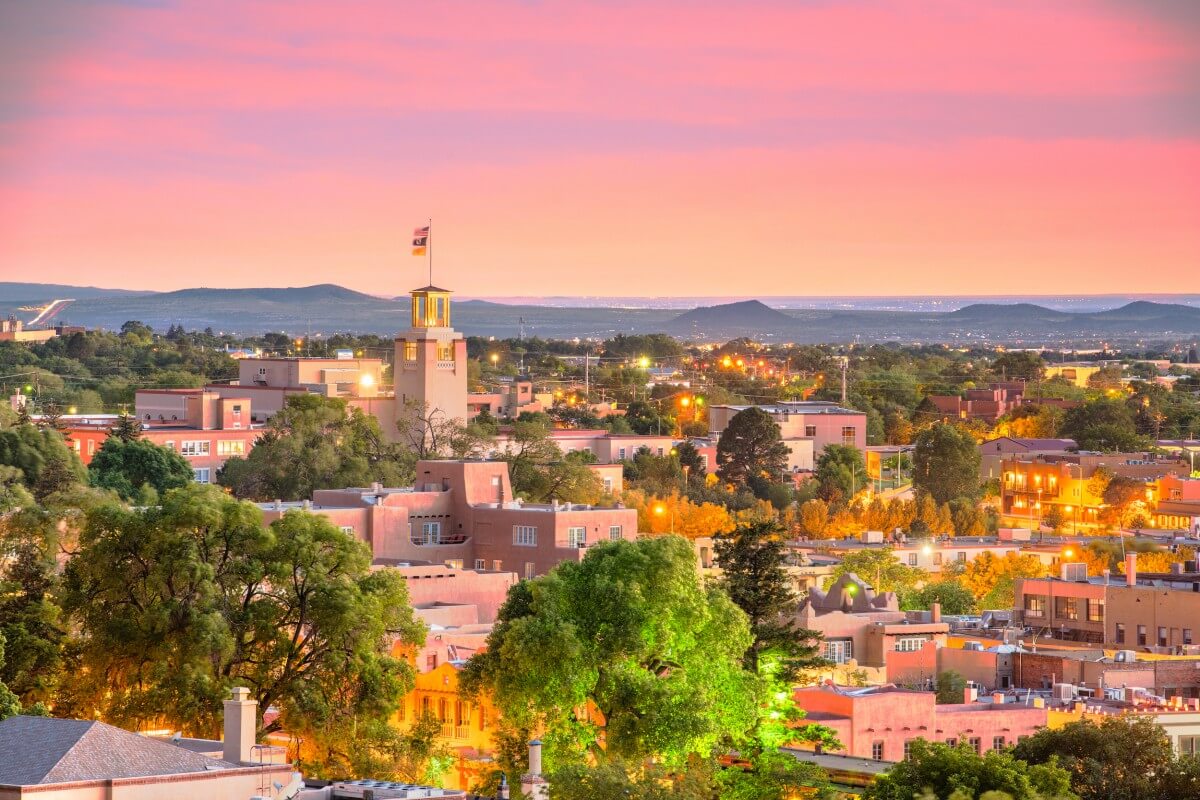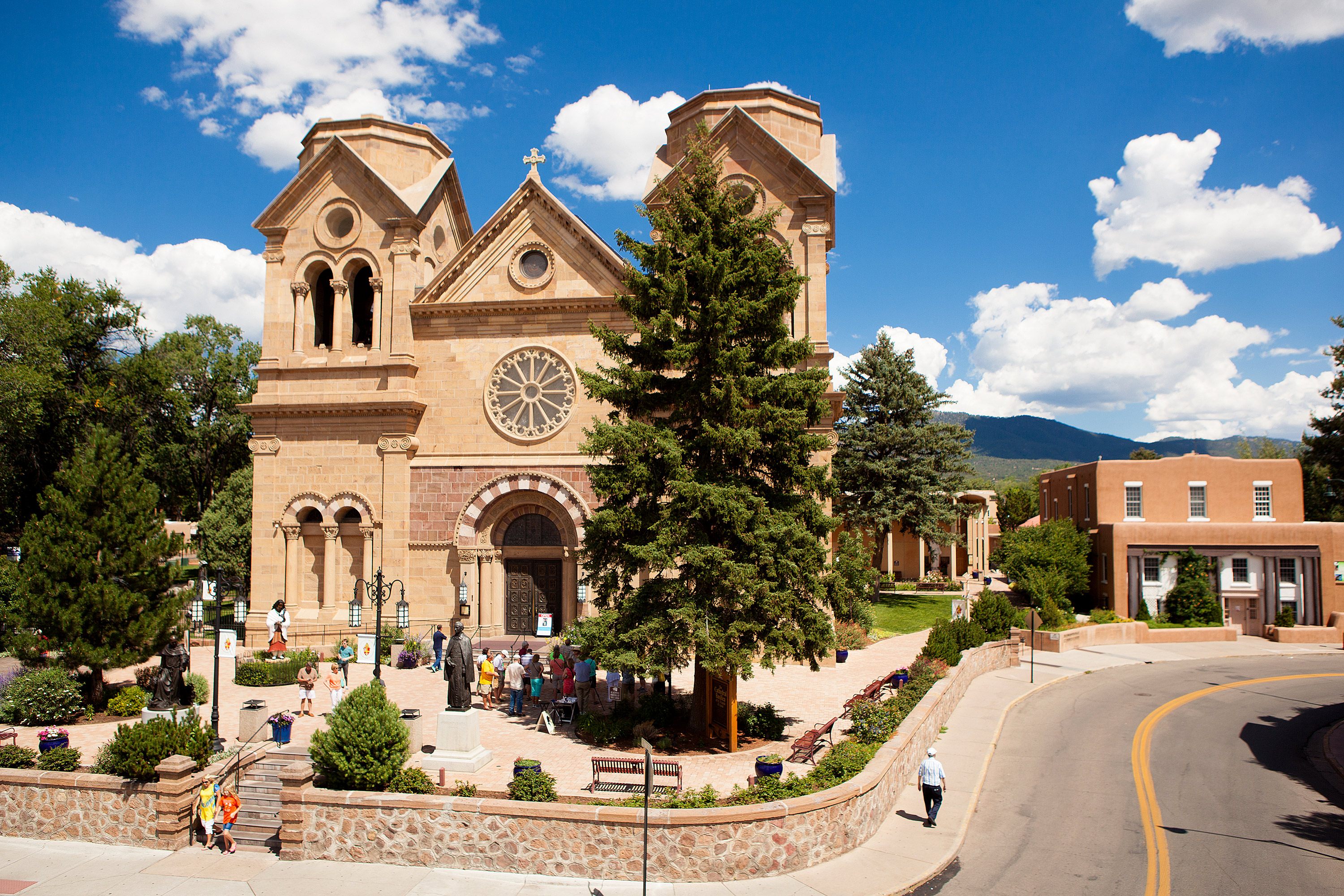 For us, Santa Fe is more than 'a sense of place' or The City Different which is the marketing tag of Santa Fe. It is a heady mixture of tranquility; clear never-ending blue skies; drop-dead gorgeous mountain views; art (over 300 art galleries and studios); music (The Santa Fe Opera is a recognized world-class operation, the Lensic has several music programs, and there are a variety of musical offerings throughout the Summer); native American festivals (including Indian Market in August that draws an estimated 150,000 people from around the world); and hundreds of restaurants offering food at all price points and cuisine from a multiplicity of cultures. Santa Fe also has several artisan bakeries (savory or sweet or both), chocolatiers, coffee houses, and breweries.
(OK, we do get some days with clouds.)
However, the focus of this post is the food and drink easily found in and around Santa Fe. Specifically, my suggestions for tourists to think about when they visit or move here. There isn't any way that I'm going to write about every restaurant or bar / lounge: these are only, as I mentioned, my suggestions.
Before beginning my lists, I want to mention a few items:
There are several New Mexican restaurants that state on their menu that they make no apologies for the heat of their chile (whether red or green). There are times I want the red, other times I want the green, and many times I ask for "Christmas" to get both red and green.
Santa Fe has an annual Green Chile Cheeseburger Smackdown (an OMG event) – there is a judge's winner and a people's choice winner (https://ediblesmackdown.com).
Santa Fe has a Margarita Trail (yes, there is an app for that) where more than 40 restaurants and lounges showcase their 'best trail' margarita. (Yup, another OMG event which goes on for the entire year. Years, really, as there is no cut-off to get your 'stamps' from each participating restaurant or lounge.) (https://www.santafe.org/visiting-santa-fe/self-guided-tours/santa-fe-margarita-trail/)
Most restaurants have outdoor dining – when you're in a place that gets over 300 days of sun, you can leverage the heck out of that fact.
Finally, keep in mind that while Santa Fe is a desert town, we are a high desert town sitting at 7,000 feet above seal level. Combine both facts and you will experience cool evenings: the desert doesn't hold the day's heat in the first place and at this altitude, you can double down on that phenomena. It does depend on the time of year, obviously, but if you usually eat at later hours then you will leave the restaurant (or lounge) in cooler temperatures.
On to the restaurants.
There are restaurants that, for me, make Santa Fe 'Santa Fe.' That doesn't mean they have necessarily been here for many decades although several have existed for generations. But it does mean that when we eat at these restaurants we feel like they are an integral part of the enjoyment of visiting or living here either because of their longevity or the excellence of their food or their addition to the cultural offerings that we can find in The City Different. I hope that makes some level of sense.
Here are eleven of those restaurants, in no priority order (and you can click on the link to find what they serve), that we believe help make Santa Fe 'Santa Fe':
In addition to the 11 restaurants listed above, here are 10 others which we include in our eating-out cycle:
These 20 restaurants are just the tip of the places to go to eat out.
I have purposely excluded many existing and new restaurants that are in the Santa Fe's south side. I did this only because you definitely will need a car to get to them if you are staying in Santa Fe, are staying at The Four Seasons Rancho Encantado (https://www.fourseasons.com/santafe/?seo=google_local_ssf1_amer), or the new Auberge Bishops Lodge Hotel (https://aubergeresorts.com/bishopslodge/).
When we lived in the Boston area I could easily answer the question "what is your favorite restaurant?" My responses, through the 30 years we lived in Hopkinton, Ma were consistent: Legal Sea Foods, The Capital Grille, and Siena (this wonderful Italian Restaurant is in Smithfield, RI).
But my response to the same question for Santa Fe is a definite 'it depends.' Not being able to easily answer that question is one of the wonderful characteristics of living in Santa Fe. What doesn't depend is my answer to the question: "How do you like living in Santa Fe?" My answer: it's wonderful !!!!!!