Some people have asked me what my book is about.
To answer that question, I thought it would be helpful to introduce myself and why I wrote the book as well as provide my three objectives for writing the book and the titles of the major sections inclusive of descriptions of each section.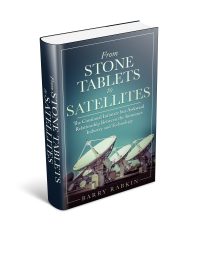 https://www.amazon.com/Stone-Tablets-Satellites-Relationship-Technology/dp/0578081431/ref=tmm_pap_swatch_0?_encoding=UTF8&qid=1658638720&sr=1-1
But first, let me introduce myself
I'm a native insurance professional.
I began my insurance career in 1966 as a life insurance Summer actuarial student for John Hancock. Nope, I didn't become an actuary. Life had other turns and twists for me including being drafted into the Army and then going to graduate school. I realize other people who faced the same twists still became actuaries. But, after all was said and done, I went into the Marketing / Market Research departments of insurance carriers. However, I was always put on committees that were tasked with the responsibility to help select technology vendors or information / data brokers for the carrier.
From an overall summary, the greater part of my 45+ year career has been working in the business side of the insurance industry (17 years), being a management consultant to the insurance industry (8 years), and forming and/or leading technology-focused insurance strategic advisory practices within US and UK Analyst Firms (22 years).
I've always loved technology whether analyzing current or emerging technologies and their potential applications on the structure of the insurance industry or on insurance commerce, continually striving to take the customer's point-of-view.
More generally, I learned the lesson – which was constantly emphasized through the decades and the companies I worked for – that the purpose of any technology is to enable one or more business objectives. Obviously, the introduction of new technologies or enhancements to existing technologies alters the risk landscape. But the value-add of insurance companies remains the same: mitigating or otherwise managing risk in a manner that protects clients while simultaneously generating profit for the insurance firm.
The consulting and the analyst firms took me to a variety of countries for insurance industry client engagements and/or to deliver presentations discussing the potential impact of technology on our industry. Beyond working with US insurance executives, I was fortunate to work with insurance executives in Australia, Canada, Columbia, Germany, New Zealand, Portugal, Singapore, Spain, Sweden, Switzerland, the UK, and Venezuela.
All of these experiences and others fed my ideas and drive to write my book.
Our industry issues that we face in the US are not really different from the industry issues faced by the executives I met in the other countries including (but certainly not limited to): becoming customer-centric; identifying which current or new technologies to deploy; determining how to meet producer expectations; strengthening product development; strengthening channel management; improving claim management; and, of course, rationalizing the number of core administration systems.
None of these are unique challenges to the US insurance industry. The issues differ in degree but not in kind. Obviously, our various regions operate under different insurance regulatory authorities but that only provides another dimension to resolve what are really similar challenges.
I wrote my book for experienced and novice professionals in: incumbent and startup insurance firms; incumbent and startup technology firms in the business to offer solutions to insurance firms; and analyst and management consulting firms focused on the insurance industry. For every reader, I include several frameworks throughout the book that can be used to think about and resolve the issues I discuss in the chapters of each section.
And now, here are my three objectives and the seven major sections, inclusive of their purposes, of my book.
Objectives
I have three over-arching objectives for writing this book about the continual intimacy – awkwardness relationship between the P&C insurance industry and technology:
Amplify a persistent truth: Amplify the truth that insurers have always applied technology, and will always apply technology to get-and-keep customers. Insurers were using technology during the time of the Code of King Hammurabi BCE. There is nothing new in the continual but unrealistic demands of investors in insurance startups or younger generations for incumbent insurers to adapt new(er) technology applications. Every type of insurance firm – reinsurer, primary insurer, broker, MGA, MGU, independent insurance agency – remains an insurance firm and only an insurance firm. Technology doesn't transform an insurance firm into any type of technology firm.
Use a lens of P&C insurance commerce, and data and analytics perspectives: Discuss ways that insurers do or could apply technology using a lens of different commerce perspectives – risk landscape, customer, carrier, product development, channel management, and claim management – as well as data and analytics perspectives.
Consider the near-term future of P&C insurance industry technology applications: Discuss potential emerging technology applications for P&C insurance firms to get-and-keep customers; fulfill producer expectations; become and remain operationally unscathed during severe national and global events; and strengthen the firms' competitive positions within the next five years.
The Seven Sections
I discuss an array of supporting issues and perspectives throughout seven sections and the chapters within each section in this book to support my three objectives.
Here is the essence of each of the seven sections:
Section 1: Foundation – This section includes four chapters that encompass discussions of the shifting conduct of commerce; the nature of the intimate but awkward relationships between the P&C insurance industry and technology; technology being the DNA of society; and of the five technology eras that society and the insurance industry have experienced.
Section 2: The Insurance Decision Matrix – This section includes three chapters that encompass discussions of the ancestral insurance decision matrix; resolving the ancestral insurance decision matrix; and of the modern insurance decision matrix and resolving it. The ongoing challenge that every insurance firm faces is how to profitably solve the insurance decision matrix subject to the metrics of the insurance lines they conduct commerce.
Section 3: Strategic and Business Models– This section includes six chapters that encompass an overview discussion of strategic perspectives; a discussion of expanding business models; of moats defending business models; of both the Amazon and Netflix business models; of an insurance business model; and of lessons which insurers can learn from the Amazon and Netflix business models.
Section 4: Tactical Perspectives: Actions Supporting Strategies – This section includes four chapters which encompass a discussion of insurance value chains; of shared systems which are a bundling of value chains; of market platforms which essentially leverage the Interconnected Technology Era (note: this is one of the five technology eras I discuss in Section 1); and of industry ecosystems which are triggering frameworks and actions for the On-Demand Era (note: this is also one of the five technology eras I discuss in Section 1).
Section 5: Insurance Commerce Perspectives – This section includes seven chapters which encompass a discussion of risk landscape perspectives; of customer perspectives; of carrier perspectives; of product development perspectives; of channel management perspectives; of producer productivity perspectives; and of claim management perspectives.
Section 6: DataAnalytics Perspectives – This section includes three chapters which encompass discussions of data perspectives; of analytics perspectives; and of specific analytical solution perspectives.
Section 7: The Road Ahead – This final section includes three chapters which encompass a discussion of the forces that shape the success of insurance initiatives; a discussion of a P&C carrier roadmap; and a discussion that focuses on the need of insurance firms to keep the intimacy while losing the awkwardness.
I want to note that the various sections that capture my perspectives on insurance commerce and on DataAnalytics might seem to take stand-alone points-of-view. However, these sections, inclusive of the chapters within each section, are not stand-alone because each of the suite of perspectives are interconnected and interdependent.
Indeed, one glaring challenge which the insurance industry has not resolved through the decades is to overcome the silo organization and structure of the industry and of each insurance firm that participates in the industry.
I'd love to read your feedback
Whether you purchase my book as a Kindle, Audible, Paperback, or Hardcover, I would really like to hear your feedback after you read it.